A Wild pansy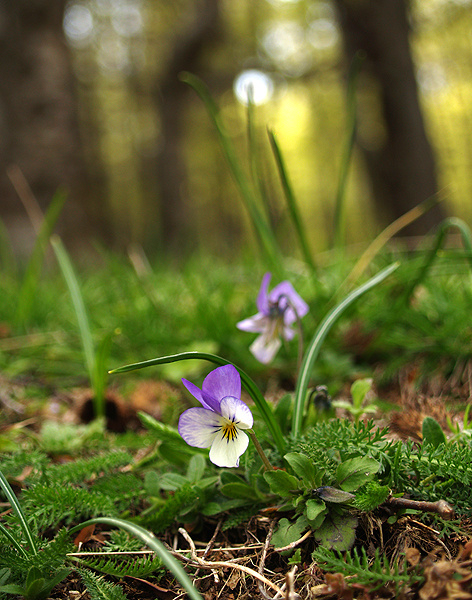 It fell upon a little western flower,
Before milk-white, now purple with love's wound
And maidens call it love-in-idleness.
Fetch me that flower; the herb I shew'd thee once:
The juice of it on sleeping eye-lids laid
Will make man or woman madly dote
Upon the next live creature that it sees."
Abstract from Shakespeare's "A Midsummer Night's Dream"
According to The Royal Society of Chemistry says research of the play's text revealed the wild pansy - or heart's ease - was the basis of the elixir used on Titania, queen of the fairies, to make her fall in love with the first person she saw.
http://news.bbc.co.uk/2/hi/uk_news/1818060.stm
In the photo a wild pansy in the Lailias mt., in Serres, Macedonia, Greece.
Άγριος Πανσές στο δάσος του Λαϊλιά Σερρών. Σύμφωνα με έρευνες Βρεττανών επιστημόνων ο άγριος Πανσές είναι η βάση του ελιξίριου το οποίο αναφέρεται στο έργο του Σαίξπιρ "όνειρο θερινής νυκτός". Το ελιξήριο αυτό δόθηκε στην Τιτάνια, τη βασίλλισα των ξωτικών για να ερωτευθεί το πρώτο άνθρωπο που θα συναντούσε.
"Yet mark'd I where the bolt of Cupid fell:
| | |
| --- | --- |
| | |